Piling On
A good friend of mine, Howard Plucar, missionary, pastor, blogger and devotional writer, who has lived much of the past decade in Japan and the Philippines, remembered something from his high school football days when thinking about the difficulties faced by hundreds of thousands of Filipinos these days:
"Back about 45 years ago when I was playing high school football, there was a rule against "piling-on" a player who had already been tackled and was down on the ground."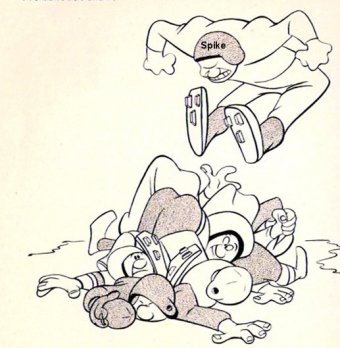 I can also remember a guy who used to play football at the college where I attended. He as known as "Spike," and I can remember some classic late hits that resulted in "Piling On" penalties for our team. Well after the whistle he would race to downed ball carrier and jump on him with his helmet leading the way. 15 yard penalty. But, as Howard Plucar notes, "it seems there is no such rule for life because life has a way of' 'piling-on' when we're already down and discouraged. The people in The Philippines whose lives have been devastated, first by an earthquake and now by the monster typhoon, surely must feel as though life is "piling-on" when they are already down. Even in our personal lives, we go through periods when we wonder, "what's next?", as we go from crisis-to-crisis ourselves, or walk and pray with family and friends who are getting piled-on by life. ...... We pray…"Your Kingdom come; your will be done on earth…", clinging tenaciously to Jesus while working toward rightness in every way possible (especially toward those who are being "piled-on") in anticipation of complete rightness being established at the return of the King."
We have been told to expect another storm in the coming days. It isn't supposed to pack the wind power of Yolanda, but will bring lots of rain. And it could develop into a stronger typhoon. Piling on! Lord, I pray that you would calm this storm, right out in the ocean, as it moves towards our part of the country. The people of Leyte and other battered islands just can't handle any more destruction.