Visitors
Yesterday three different groups or individuals visited us. It isn't common for that many to be here at the same time, but we do have a lot of visitors come to CSC. It is a bigpart of what we do, and we recognize that doing it right is important. Adoptive families come to get their new family members: we need to help ensure that they have a positive experience, get information from us as to their children's backgrounds, medical and developmental progress, and counseling and school accomplishments. Donors come to see the ministry: we want them to feel good about their partnership by meeting the kids, staff and workers, and getting a sense for the type of care we offer within our great facilities. Former residents return to see where they used to live and reconnect with the staff and workers: we want this to be a welcoming experience where they feel loved, remembere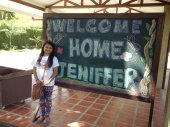 d and encouraged.
One of the things we try to do is to put the names of our visitors on our welcome board that is clearly visible when they enter CSC. Our house parents do the lettering, especially Uncle Patrick. Visitors are almost always taken aback with this recognition, and it helps emphasize for them that we are happy to have them and have been anticipating their arrival. Many guest want a picture at the welcome board before they do anything else at CSC.
Our Cebu staff is a very welcoming group! We recognize that visiting CSC can be a life-changing experience for many guests. For some, it gives them a better understanding of the ministry, the types of needs we meet and the issues and problems that face the poor in the Philippines. For others it reinforces their commitment to helping financially, or gives them a first hand look at needs within the ministry. For adoptive parents it provides and opportunity to show them the level of care that their child(ren) received at CSC. And for returning residents, visits are significant reunions, where we laugh and cry and remember.
Throughout our history, many visitors to CSC have gone home as changed people. Some have resolved to adopt children. Some have returned to join our staff or serve as short term missionaries. Some have become donors. One couple decided to build the Cherne and Eicher houses. Some have taken the ministry home to their churches, families and friends. Some became lifetime friends of staff members. Others had their faith renewed or strengthened, seeing all that God has done and is doing at CSC.
Whatever the reason for the visit, our staff stands ready to greet our visitors with some of the same love and care offered to the children who come to live with us. We want to be a caring, welcoming home that communicates the love of Jesus Christ to all who enter.