P.E.!
Every Monday is P.E. day. I like P.E. day beacuse I get to see the kids more. In the mornings the kids have their core classes, those that focus on reading and writing, etc. But on Monday afternoons, they have P.E. down at the shelter.
All of the kids walk down to the shelter from the school at 11:30. They eat lunch, some wash dishes, the rest play, study, or read until 12:30. Those who do not have P.E. first, walk back up to school. The remaining group eagerly awaits the arrival of their P.E. teacher. From 12:30-3:30, the different grade levels practice a sport, hone new skills and most importanly, PLAY! The current sport: SOCCER! As you can see from the pictures below, the kids have a lot of fun!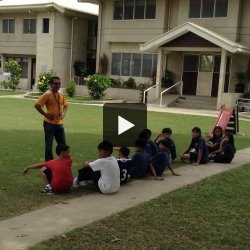 And some of our kids' athletic abilities surprise us all! Check out these skills!