Ups and downs: CSC and Tom Kelly
The Philippines is a place of tremendous contrasts. Rich and poor people live in close proximity in every city and town. There is great natural beauty here, and the ugliness of smog, squatter areas and polluted rivers. Large SUVs and antique looking bicycles share the roads. Some people buy food at modern style grocery stores; others prefer the large open air markets.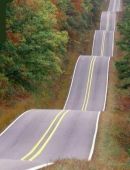 CSC is also a place of contrasts. We ride a roller coaster of emotions on an almost daily basis. While we deal with problems and difficult behavioral issues with some children, we celebrate accomplishments in our homes and school. We deal with children like CJ who has been sick for most of his 18 months. He suffers from bilateral vesicoureteral reflux, which affects his kidneys, and has microcephaly. He has developmental delays and gastroesophageal reflux. At the same time we marvel at the growth and health of most of our kids. We watch children running on the playground and those that must be pushed in their wheel chairs. We hear reports of our former residents who are having difficulty in their adoptive families, in school and in relationships, even while we celebrate the accomplishments of others who are exceling in academics and sports, and are growing in their faith.
Someone once said that if you are not experiencing ups and downs it means that you are dead. CSC is alive because we take on the challenges of working with older children, sibling groups, those with difficult pasts and kids with medical challenges.
2013 has provided lots of challenges and blessings for CSC as an organization, even in the financial area. A couple of our supporting churches decided to cut back or stop their support of CSC due to changing priorities or financial difficulties. Our income from the Combined Federal Campaign has gone down considerably. But in the midst of those challenges God has provided in other ways. One of our faithful churches decided to give an "over and above" gift at the end of their fiscal year as they had a surplus in funds. They decided not to put the money in the bank but to help fund meaningful ministry. Some children in St. Paul heard of CSC's financial needs and decided to sell lemonade outside their home, with all the profits going to our kids in Cebu. Lots of ups mixed in with the downs.
Tom Kelly, a former manager of the Minnesota Twins, used to say that one of the keys to success in Major League Baseball was not getting too high after a win or too low after a loss. Keeping things on an even keel emotionally is easier to do in a baseball context than with a ministry to homeless children in a country like the Philippines. But there is some truth for us. As we ride the inevitable roller coaster of emotions, we need to keep our eyes on God, remembering his tremendous provision in the past, and knowing that in the midst of dark and difficult times, his light shines bright on CSC.