Snack time business!
On Monday of this week, a new business venture was begun at CSC! The Level C1 kids are trying their hand at a food business to learn about math, economics, supply and demand and who among their teachers and aunties has a sweet tooth or an unhealthy need for soft drinks! :)
For the next 12 school days, each day during the snack time break they will sell their handmade goodies (and handpurchased drinks); something different will be offered each day. The first day was a red hotdog in a soft bakery bun---they also provided ketchup for those who prefer a more dressed up dog. I had forgotten to visit the school during snack time, but I needn't have fretted as the group came to my office with their food, their bank, complete with tissues and ketchup if I needed! Such service! They also excitedly told me that they have Coke Light; however when I asked for one I was told that I could visit their school for that one. :) But really, how can you turn them down?! And T. Glenda is a smart cookie to encourage them to make their business a mobile one! :)
Yesterday's snack was arroz caldo, a warm soupy rice dish. Again, the girls found me in my office. They were, however, sold out of arroz caldo, but were wondering if I would like a drink. They had decided to also make their drinks a part of their mobile sales---I rewarded their business savvy with my purchase of a Coke Light.
Today was gulaman; a gelatinous dessert. It is the consistency of jello but today's was made with coconut milk instead of water. I bought one for 3 pesos and a Coke Light to wash it down, 25 pesos for that, so my delicious snack was 28 pesos in all. That is about 50 cents---a steal!
I have heard rumors that Monday is pancake day! I am SUPER excited for Monday.
At the end of this project, they will calculate their earnings, split them amongst them and will go shopping together. I have already asked some of them what they think they will buy, so far the unanimous decision has been: JUNK FOOD! Go figure. ;)
Today's snack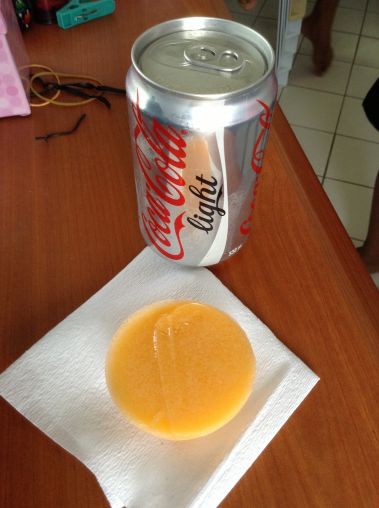 Future business ladies:
They are learning early and are quite persuasive already! :)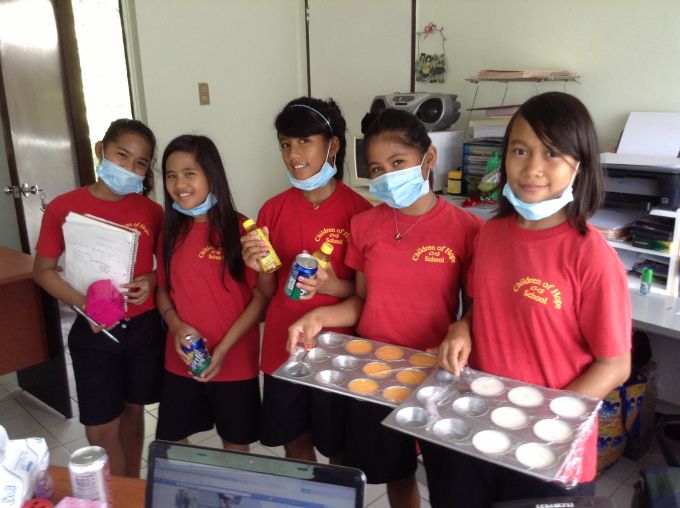 I love how EXCITED these girls are about school and learning and I LOVE how they brighten up my day when they come to my office in the morning!
Oh and the face masks are so they practice proper food handling and hygiene; there is no end to the benefits of this project!
Also, did I mention that Monday is pancake day? I am looking forward to Monday...
:)