Filipino Chicken Barbecue Recipe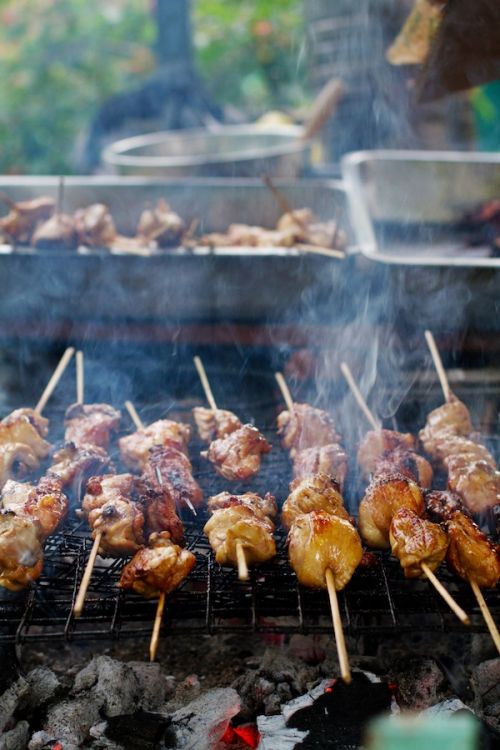 Everywhere you go in Cebu, you see people cooking meat like this on the side of the road. There's this smoky haze around them and the meat is stuck on skeweres and barbecued to perfection.
It's no different at CSC! The uncles have the job of being the barbecue-master and they know how to do it right. They hold a little piece of cardboard and wave the smoke away as the chicken cooks.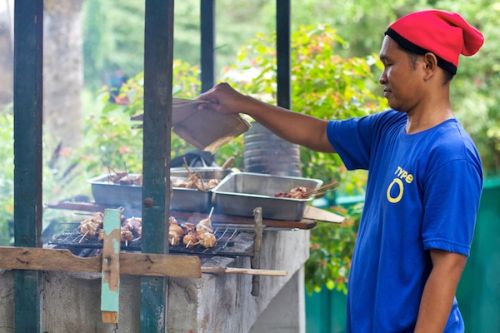 Speaking of chicken, I was surprised to see this guy standing so close by...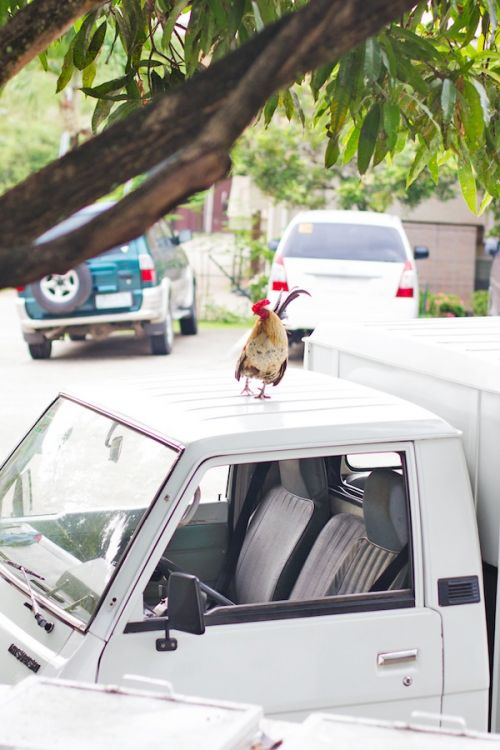 One thing that's interesting about CSC's barbecued chicken is that they barbecue it twice. The pan on the right side is for the skewers that have been on the grill just once. The pan on the left is for the skewers that have been on the grill TWICE. This gives the chicken an extra yummy crispy exterior and a smoky flavor. Delicious!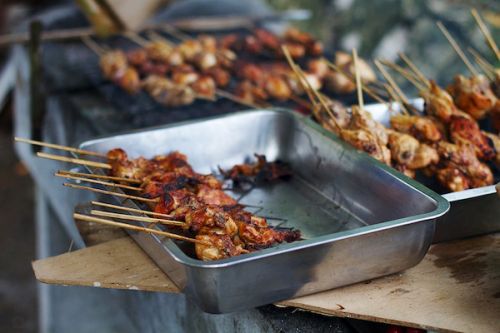 Chicken Barbecue
Recipe from the Eicher house

6 cloves garlic, crushed
1 teaspoon black pepper
2 tablespoons lime juice
2 tablespoons oyster sauce
1 tablespoon soy sauce
2 teaspoons salt
1 bouillon cube
2 tablespoons brown sugar
2 lbs. chicken thighs, cut into small pieces*

1. Combine all the ingredients except chicken to make a marinade. Marinate the chicken for 3-4 hours.
2. Start a charcoal grill and let the coals get very hot. You want smoking, flameless coals. Thread the chicken pieces onto wood skewers and place on a metal grate over the coals. Brush with oil and grill until the chicken is cooked through. Remove from heat and let rest for a few minutes.
3. Repeat the grilling process with the cooked chicken, brushing with oil as necessary and grilling a second time until the outside of the chicken is a deep golden brown with a crispy exterior.
*The CSC aunties and uncles use bone-in chicken thighs with skin, but you could substitute boneless chicken thighs with skin. Keep the skin because it's what makes each piece browned and crispy on the outside.