My moment for the week
This week has barely begun, but already I have had a moment. What I mean by moment is an experience that hits me wherein I understand why I have been called to serve at CSC and I feel immeasurably blessed to be serving at CSC.
In reality, these moments can be found wherever you look at CSC. I don't say this to downgrade the significance or value of these moments, rather I say that because I feel like this place is special for that very reason. Sometimes I think that CSC is in the palm of His hand.
The boy in the picture below is a special little guy. He and his siblings have been at CSC for a bit over 2 years now. They were admitted to CSC by police escort because their parents had so severely abused them. The police were protecting them until other intervention was found.
This little guy is the youngest of the group and as he ages we get to know him a little bit more. He is delayed in many ways. He was over 1 year old when he came to CSC but he was not yet walking and didn't for quite some time after. Socially he is also not on the same level as his peers. He was not able to self-soothe when he arrived; whenever he was upset he would grab his own hair and pull it so hard. Similarly, his response to others comforting him has been atypical.
However, recently, this little guy has changed so much. He is AFFECTIONATE now! I shout that because he greets me every morning I arrive to the shelter. He runs over, puts his arms up and lets me hold him. He really and truly wants it! I did not believe I would see the day that he sought such attention. And in the picture below you can see him reaching up to hold my hand.
That is a BIG moment....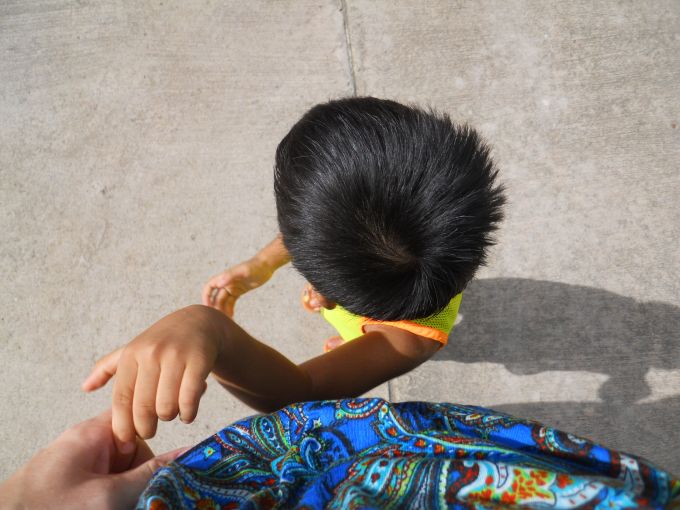 I paused when that happened and I pause again as I look at this picture and I am reminded once again of the good that is done here.
This little boy has so many people fighting for him to succeed---to overcome the pain and suffering he should never have had to experience. And he is succeeding!
And there are so many people that love him. And he knows love now too!