A Leap of Faith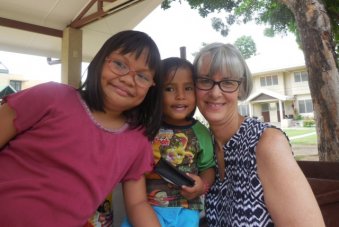 God does truly have a sense of humor. I have done some travel to Africa in my role as an Emergency Department nurse educator, but never did I picture myself as a dental assistant working at the Children's Shelter of Cebu. What an awesome experience!
I was approached by my local dentist, Dr. Matt Struve, earlier in the year about traveling to Cebu. He was planning a trip to the shelter to provide routine dental services. All he said I needed to do was "pray about it." My initial instinct was to decline his invitation to go, but the invitation to pray was a tough one to ignore. So I prayed. After much thought and prayer it was evident that I was being called to go. It was clear once I arrived that it was no mistake that I was there. It was an awesome feeling from the time we arrived.
The work was not easy. As a pediatric nurse I felt equipped to manage the physical work . . . but the details of the dentistry piece was another story. Our team consisted of Dr. Struve, Brenda Birk (another non-dental person), myself, and Evan (11 year old son of Dr. Struve). God had a plan. He put together everything that we needed (except for our autoclave). The kids and staff were awesome. Each child was so brave and trusted "Uncle Matt" to take the best care when working on their teeth. Marlys Healy was also integral to our success. She spent many a day with us, holding the kids' hands, and providing the necessary words of encouragement in Cebuano. Throughout our week some awesome things happened. A 10-year old boy demonstrated compassion far beyond his years, a 6-year old championed his procedures and gave a thumbs up to let us know; and although he didn't complete all we needed to do one boy truly was strong when he needed to be. I can only say yet again, these kids are amazing!
The week was long and left me with a few muscle aches, but it was an extraordinary trip. We worked hard, but we also played hard. It was so fun to play alongside the kids. They got to know us better and we got to share in their laughter and their contagious energy. I really feel strongly that playtime was truly the bridge to the success of our trip. It provided the kids with the time to get to know us on their "turf." I managed to get in one ping-pong game but was beat hands down. There was time on the swings, basketball games, and even time to just sit and chat.
What was the highlight? It is so hard to answer that question. My thought is this. I was given an opportunity to witness God's amazing love through the work of so many. His love is exemplified by the laughter and joy found in the children cared for at CSC.
- Anne Renaker