Centralites Are Here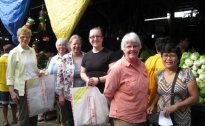 Central Baptist Church of Saint Paul, Minnesota, the home church of Paul and Marlys Healy and Mitch and Ruth Ohlendorf, has sent a team of 11 members to CSC to visit the ministry, fellowship with the children, staff and workers, and run a three day camp for the older children at the Shelter. This has become an every other year tradition at CSC, and hundreds of kids have enjoyed being a part of these camps over the years. The camp will be held in a Christian camp on the beach in Santander in southern Cebu. The kids will have time in the ocean, hiking, playing games, sleeping in tents, eating good food, doing crafts and learning more about God. Chuck Sorley, the youth pastor at Central, will head up the camp once again. Pastor Joel Lawrence is also with the team. He has been busy speaking to various groups, from CSC staff and workers, to the students of the Baptist Theological College.
Thanks to the team for their willingness to come and serve, and for those who are supporting them through prayer and financial gifts.