In Memory of Afton Bjork Ostrom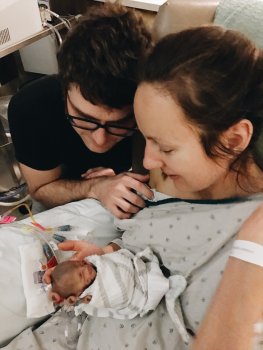 Dear Friends and Family,
Bjork and I are proud to introduce our perfect baby boy, Afton Bjork Ostrom, who was born on December 31, 2016 at 2:25pm weighing just 1lb 3oz, and who left this world peacefully, laying skin-to-skin in the arms of his mommy and daddy, surrounded by love and comfort in the early morning hours of January 1, 2017.
In our deep grief, we are so full of awe and wonder for having had the chance to experience just a tiny taste of his precious sweetness this side of heaven. We got to truly fall in love with what it means to be his parents – to feel his heartbeat skin-to-skin against our chest, to touch all his fingers and toes, to soak up his smell, to give him a bath, to be able to kiss his sweet, perfect face, to read him a bedtime story, and to whisper lullabies into his tiny little ears so he could hear and know our voices.
These all too fleeting moments we had with him are also making the ache of losing him feel all the more raw and visceral. We experienced a taste of what it was like to love him, but we so badly wanted a lifetime. It's a depth of loss that we've never known – where something so tangibly a part of you is suddenly gone, and you can feel the searing hole right there in your own body. It's our honor to wear that deep scar as the evidence that he was here and he was loved, and we'll carry that ache with us every day for the rest of our lives until we meet him again someday.
This experience has given us a profound appreciation for the meaning of family. We know that there are many others, both here and around the world, whose families have also been broken by tragedy.
We hope to honor Afton's memory by pouring into the lives of hurting children who don't have families of their own to care for them. Bjork and I lived and worked at the Children's Shelter of Cebu orphanage for one year and saw firsthand the loving and lifesaving ways that children are cared for in times when they are most vulnerable.
Thank you for being a family to these children with us, and for doing so in memory of our precious son Afton.
Bjork, Lindsay and Afton
---
You can also mail your donation to:
Children's Shelter of Cebu
P.O. Box 247
Cambridge, MN 55008
---
Donor Messages:
In celebration of Lindsay, Bjork and Solvi, and in loving memory of Afton. Love that you love Cebu!!
- Katy Keck
I just recently came across the story of your precious baby boy and it's broken my heart for you all. I love that you guys have set up these donations in Afton's honor. I worked in an orphanage in Ecuador for 7 months in college and have a special place i
- Lindsey Giles
Thank you for sharing your beautiful Afton with the world. You are all loved so very much!
- Jessica R Drake
In honour of Afton's first birthday.
- Katie Trant
In honor of Afton, and all of the beauty his life has generated. ❤️
- Kimberly Kripalani
Thank you for being so strong and sharing your story. It touches minds, hearts, souls and lives of people you might never know in the ways you might never come to see. But it makes a difference. You and your sweet boy are in my prayers every day. God bl
- Tatsiana Duzenski
Touched by your awesome story
- Paul and Erin Simms
Thank you for sharing your beautiful, heartbreaking journey. You are brave, wonderful parents to sweet baby Afton and your message of caring for other children in need at your greatest time of sorrow speaks to your wonderful hearts. Sending you love and
- Kristen
Bjork and Lindsay, Thank you for your courage in sharing this journey. May the Lord wrap his arms around you just as he is wrapping his arms around Afton in Heaven. Much love, Karla
- karla kay romano
I am keeping your family in my thoughts and prayers. I can't imagine how difficult this all is, but know that you are all - Lindsay, Bjork and Afton - so loved. By so many.
- Beth Devlin
In awe of your courage and strength. Our thoughts and prayers are with you.
- Joe & Rebecca Winston
Thinking of you both daily. I'm so sorry for your loss but I love the way you are remembering him through your beautiful words and sharing with the world and also choosing to help others in need at the same time. You two have the biggest hearts. Big big h
- Julie Wampler
You re in our thoughts and prayers.
- Michael Vrobel
Lindsay and Bjork, I just learned of your brief, but, blessed time with your beautiful angel, Afton. My heart and prayers go out to you both as well as your families and many fans who are grieving along with you. You are truly blessed to have had a moment
- Cathy E. Speronis
Keeping your family close to our hearts and continuously in our prayers, Lindsay & Bjork. Thank you for your courage to share your touching story and allowing us the blessed opportunity to know Afton in all his wonder. xo
- Your friends at GM
Lindsay and Bjork- I am so touched that you have provided this as a way for all of us to remember your baby boy. XXX Janis
- Janis A. Donnaud
Bjork and Lindsay, I've been following along with all of your posts on social media and the blog. Your courage to tell Afton's story is beyond words. Many nights I would sit and read your posts over and over, as the tears would stream down my face. Pleas
- Liz Latham
I am so very sorry for your loss. Sending lots of love and prayers to you and your family.
- Nicole Leggio
Lindsay & Bjork, I feel deep sorrow for the loss of your precious angel baby Afton. May he watch over you and may God bring strength to you both and your family during this time of grief. Sending you much love and light. Ester Perez
- Ester Perez
Much love to you, Lindsay, Bjork and sweet Afton. You are in my thoughts and prayers constantly.
- KBT
I'm so truly sorry for your loss. I pray that you find strength and hope to guide you through this very difficult time.
- Brandi
Lindsay and Bjork, May you sense right now that heaven is close and Jesus is near. May you walk confidently knowing that God is in control. May you find peace in the storm and rest in the shadow of his wing. Let Jesus carry you, he'll give you the grace
- Janet C Budde
In memory of your precious Afton and for care of children in need
- Barbara Shramo
Sending all the love and prayers in the world to your sweet family. You are wonderful people, turning your own heartbreak into hope for others.
- Alison
I've only been listening to your podcast for a few short weeks, so I'm just getting to know you. I'm so very sorry for your loss. Thank you for sharing Afton with us and giving us an opportunity to help others, in his name. Big hugs to you both.
- Stefani Tadio
We are so sorry for your loss and are praying for you.
- Sarah & Ed Cottrell
You are still in my thoughts and prayers.
- Katherine Twist
Your strength and grace through this tragedy has been truly inspirational. There are no words to express my deep sympathy but I have held you in my thoughts and I'm praying for comfort and warmth for you two and all who love you. Your story will help so m
- Valerie Brunmeier
I have been following your blog for awhile now and I'm holding you both in my thoughts at this difficult time.
- Julia Kitlinski Hong
To honor Afton's memory and to show you both you are loved and prayed for
- Connette Allen
I continue to keep you and Afton in my thoughts. You have touched so many of our lives through your blog. I hope we can bring you a small bit of comfort in your sorrow.
- Andrea M Kreit
You are so courageous and strong to share your grief with your blog audience. I wish you peace and healing.
- Merissa Racine
Lindsay and Bjork, There are no words to describe the heaviness that I feel in my heart for you. I am so incredibly sorry for the loss of Afton. Please know that the two of you, baby Afton, and your families are in my thoughts and prayers. Sending all of
- Ellie O'Brien
I love your blog, and am so very sorry to read about your loss. I had a stillborn baby several years ago, and I know something of the shattering grief you are feeling. Your son was so lucky to have every moment of his life spent being loved and comforte
-
I know there are no words that can even begin to touch your grief, but I hope it will give you some comfort to realize that you are in the thoughts and prayers of so many around the world.
- Elizabeth C McNicholas
You and your sweet baby Afton are in my thoughts and prayers! Sending you love!
- lyubomira lyubenova
All my love. I am so sorry for the loss of your sweet baby Afton. May his memory live on in your hearts and forever bring you peace. He is watching down on his lovely parents from above.
- Jessica Hylton
Your writing in your pain touches me deeply. "wholeness and holiness". "this hard and this good" This human experience is all of that isn't it? And the base of love. You three shine on, as we share our light with you these hard days
- Allison Sutton
Your family is in my thoughts and prayers during this unimaginably difficult time. The character, courage and fortitude that shines through on your blog are so admirable. May God have mercy on Afton's soul and your family.
- Ashley P Ramos
Dear Bjork and Lindsay, your heartfelt expression of deep love and loss touched my heart and soul. I know you are forever changed and lifted up by this heartbreaking experience of losing sweet Afton. My heart goes out to send you love and caring and lift
- Lisa Roth
So blessed that you have a heart to help other children who are hurting, and honored to donate in Afton's honor and memory. God bless you both. Love and prayers.
- Joanne Eisenhart
We are frequent visitors of your blog and are so sorry for your loss. You are in our thoughts and hearts.
- Holly + Jesse Lujan
So sorry for your loss
- Rachael Kotula
Our hearts go out to you and your family. Praying the Lord will be your strength and comfort. Psalm 62:5-8
- Sarah H Brown
May you feel God's peace and be lifted by the love of your family.
- Chris Davis
You and your families are constantly in my thoughts and prayers.
- Mary Younkin
John 14:1-4
- Kristen Feldman
You are in our thoughts and prayers. Thanks for sharing your story about sweet baby Afton.
- Ericka Shores
Memorial Donation from Steve and Sue Carlson.
- Steve and Sue Carlson
You are the perfect parents for Afton. Sending big hugs and hope you feel surrounded by love and support.
- Natalie Gruendl
I will pray for you & glad that was able to read about the details of you & your husband's love for Aftonbladet, may the Lord keep you & strengthen you both 🕊💕💕💕💕💕
- EUGENIA HARRISON
Your son was placed on this planet for an amazing purpose. I am so sorry for your grief but know it all has a higher reason.
- Virginia taylor
Dear Bjork and Sweet Lindsay, my prayers are with you in your time of sorrow. Just remember, the Lord will reward your strength and devotion with a reunion in Heaven. Love, Kathy Fodge
- Kathy L Fodge
Lindsay and Bjork, it's my privilege to make this donation in memory of Afton. He was blessed to have you as parents and will live on in your heart and soul until the day you're reunited with in God's Kingdom. Bless you both, Kim Maney
- Kim Maney
Afton knew great love in his short life you are great parents heart strength to new families everywhere
- Cathy l clark
Your story is so moving, especially for your openness in sharing such a beautiful glimpse of the love in your hearts. Prayers and Blessings for all three of you.
- Susie Pope
God bless you and baby Afton. May the light of the Lord shine on him always. You have been in my heart all this past week, and I have shed many tears. But your love, goodness and strength are an inspiration. My prayers for you continue.
- Andrea F Campbell
You have been continuously on our hearts and minds. We are praying for strength, peace, and comfort while in the midst of heaviness. We are in awe of your authenticity and realness and know that Afton's story is being used for God's glory and in ways we w
- Angie K Olson
Wishing you peace and blessings. Through your deep loss you are helping other children receive hope. Your son Afton is proud of his loving parents.
- Shannon LaFontaine
Prayers on prayers. God be with your family.
- Roula Weaver
For the love you and Bjork have for your sweet baby boy, and the heartache only you both can know, I pray God will give you strength and surround you in peace. Afton is surely loved and honored by his incredible parents. God bless you both.
- Linda Whalen
Your in my thoughts and prayers.
- SUSAN O'BRIEN
In memory of sweet Afton. Your family is in my prayers. May you find some comfort knowing that Afton is in the arms of Jesus. Peace be with you, in all the days ahead.
- Cindy Mayovsky
Sharing in your unspeakable loss and praying that God will give you strength. --Patricia
- Patricia Moore
We are profoundly sorry for your loss. Wishing you comfort and peace.
- Paige & Chris Sipes
God bless
- june c dunne
In memory of sweet little Afton.
- Marisa Graves
Praying that you feel a comfort that you have never know that can only come from Him, our heavenly Father.
- Beth A. Shelton
I was so excited for you and now am so devastated for you. I know you'll be alright, but I hurt for you.
- Johanna Morrell
You and your family are in my thoughts and prayers. I hope you are able to find strength and peace with each others' love and support. xoxox Claire
- Claire D Ring
Praying that the Holy Spirit gives you REAL peace and REAL comfort.
- Rebecca Leary
Love and light to you and all you are going through, love from Wing & A Prayer Farm in Vermont
- Tamara E. White
What a blessing for us to be able to (tearfully) honor sweet Afton through this organization. Bjork and Lindsay, you are amazing. I pray for your family every day.
- Kristen & Brian Wilson
My love and prayers going out to you and Alton!
- Tegest Nega
Sending many love and prayers to Afton and your entire family. May you find strength and peace with each passing day.
- Liz and Rich Della Croce
My heart breaks for you both. I'm so inspired by your strength and faith, and I pray that God will comfort you in your grief.
- Christine Dedrick
Sorry for your loss. Love to you and your family at this time.
- Siri Angeles
I am deeply appreciative of you both, for sharing your story of profound loss and reminding us of the other children in the world who need our sympathy, too. In your son's name, I lift what light I can.
- Karen Rose
I am so sorry. I hope this helps even the tiniest bit.
- Jill K Carnine
I am so deeply sorry for your loss. Thank you for sharing all of your hearts in this difficult time.
- Trisha and Joe Klick
God bless you both and your baby.
- Patricia Maisch
My thoughts and prayers are with you during this difficult time.
- Meg
Your words, strength and love for Afton has reached so far and beyond. Your blogging family is giving you all the biggest virtual hug that we can muster. Love from Meaghan (@thedecoratedcookie)
- Meaghan Mountford
Sharing in your grief, Bjork and Lindsay. May God's peace and love surround you.
- Ruth Lunde
I am so sorry for your loss. Sweet baby Afton will forever be with you in your heart.
- Leah Goldglantz
I'm so terribly sorry to hear the news about your sweet Afton. You will remain in my prayers.
- Sarah K Titus
You are a gift to the world. Sending you love and energy.
- Sherrilee Carter
Afton is lucky to have such loving and peaceful souls as parents. Sending wishes of healing and warmth.
- Caitlin Cress
I'm so sorry to hear of this tragedy, Bjork and Lindsay. I will continue to pray for the two of you and your family.
- Benjamin L Wacek
We are so sorry for the loss your little angel. Hoping this helps other angels who are in need for an organization you love, what a wonderful thing to be a part of. XOXOXO
- Heidi Larsen
You and your sweet baby son are in my heart and thoughts.
- Jacqueline Regales
I am so very sorry for your loss. Sending you both lots and lots of love and positive energy during this difficult time.
- Tina Haupert
Bjork & Lindsay, even though you don't know me, you've helped me so much through the last few years. My heart is broken for you. Sending you love and hoping you can find some comfort and peace.
- Denise
In memory of sweet baby boy Afton. Although you dont know me, you guys are everyday people to me. Im so incredibly sorry for your loss but in awe of your strength. May Aftons memory be a blessing to you now and always. Much love, Sam (@littlechefsam)
- Samantha Adler
I'm so sorry for your loss and can't imagine what you're going through. Sending love.
- Kathryn E Doherty
This is incredibly heartbreaking Lindsay and Bjork. Your words here are so filled with grace in this deeply painful moment - they speak volumes about your love and hope in Jesus. Praying for his peace and comfort over you.
- Chris & Jessica
Sending lots of love and positive energy during this hard time.
- Ariana Ziskin
So very sorry for your loss. Thinking of you.
- Kayla
Bjork and Lindsay, We were devastated to read about the loss of your dear son, Afton. Our thoughts are with you during this difficult time. Sincerely, the team at Gourmet Ads"
- Michelle Steele
Deepest sympathy in your time of both joy and sorrow.
- Joni L Craft
I've been to Cebu with my son, and I have a son adopted from Guatemala. Honored to give in memory of Afton. As tears fall from my eyes, know a perfect stranger is sending you love and strength during this time.
- Marla Johnson
Sending my deepest sympathy, love and prayers your way!
- Brittany Mullins
Praying for you during this very difficult time.
- Amelia Livingston
Dear Lindsay and Bjork, I'm so sorry for your loss of sweet Afton. May the light and love of God and all His angels surround you and hold you now and always.
- Elise Bauer
Holding you in my thoughts and prayers during this trying time and beyond!
- Julie Evink
We love you guys and are praying! XOXO
- Jeff & Mandy Rose
Praying for you and your family!
- Tammy I Vosika
We're so very sorry to say goodbye to Afton, but glad to know his life has inspired so much love. Amber, James, Evan and William Bracegirdle
- Amber Bracegirdle
May your precious memories bring you comfort and may God give you peace.
- Jayne Grenier
We are so heartbroken for you and so incredibly sorry for the loss of Afton. Sending all our love your way.
- Jennifer & Trevor Debth
Sending prayers and love from Canada. I am deeply sorry and saddened about your loss.
- Greta A. Podleski
I am living in the Philippines at the moment and appreciate the cause you have chosen for donations in your baby boy's memory.
- Amy Cadusch
My thoughts and prayers are with you and your family.
- Mellissa imperato
In memory of your beautiful baby boy, Afton. Praying for your family.
- Christine Schwarz
Prayers for comfort and strength being sent your way.
- Elizabeth Neuffer
I am so very sorry for your loss. I will continue to keep you in my prayers.
- Rita M Hallstrom
Bjork and Lindsay, I'm so sorry for you devasting loss of sweet Afton. May the Lord wrap his arms around you and comfort you both during this time. Sending lots of love and prayers your way.
- Lauren Lester
Bjork & Lindsay, I cannot fathom what you two are experiencing right now. Wishing you lots of love, light and understanding in the coming months. I'm here for you if you ever need to chat, vent, or be shown a silly dog video.
- Hayley Parker
Hi guys, My heart has been absolutely broken for you since this all has happened. BUT, we serve a great God, who has a plan for everything that happens - even if we can't see it or understand it. I know that He has you in the palm of His hand, and I pray
- Taylor L Kiser
Your family has been in my prayers since the day I read the first post. I can't imagine what you're experiencing, but just know you have so many people lifting you up. Afton will always be remembered.
- Josie Ledger
Bjork and Lindsay, I am so deeply sorry for your loss of your sweet Afton. He is so lucky to have you as his parents. Sending you so much love, peace, comfort, and hugs.
- Lexi Kornblum Davidson
Sending so much love your way. You three are in ALL of our thoughts!
- Erin Alvarez
Your family has not left my thoughts and prayers. Afton will not be forgotten.
- Bree Hester
Sending you and your entire family all of my love and support during this incredibly difficult time. Wishing you peace, comfort, and strength! Sweet Afton's life and story -shared through your own vulnerability and openness - has and will continue to tou
- Laura Davidson
Wishing you peace and comfort with my heartfelt sympathy. Your precious Afton has already touched so many. xo
- Elizabeth Berg
I hope you are able to find comfort in your love for each other and sweet baby Afton. I know he is looking down on you with joy for the precious time he was able to spend with you.
- Sarah Rotavera
You all have not left my thoughts. I am so sorry for your loss, and pray always for comfort to be with you.
- Deborah Harroun
I'm so sorry for your loss. You are in my prayers.
- Emily J Caruso
I am so sorry for your loss. Sending lots of love and keeping your family in our thoughts.
- Nicole White
May the outpouring of love help to lift your hearts during this painful period. Prayers and condolences to your entire family.
- Barbara Kiebel
Much love and prayers sent your way. What a beautiful way to honor your little one.
- Natalie Perry
I'm so sorry for your loss. Hugs!
- Barbara Schieving
Sending all my love to you guys and baby Afton.
- Kath Younger
Lindsay and Bjork, you are in our constant thoughts and prayers. Thank you so much for sharing your story of sweet Afton. We are forever changed for knowing it. Sending so much love.
- becky hardin
My thoughts and prayers are with you. May God give you comfort and strength during this difficult time.
- Tonia Larson
Sending lots of love and comfort in this time of grief. So very sorry for your loss, and know that I'm thinking about you guys.
- Sarah Grossett
I have no real words of comfort, Lindsay and Bjork. Just love for you and your precious, precious boy. I am so deeply sorry for your loss.
- Carolyn E Ketchum
My heart is with you as you cherish the memory of sweet Afton. Sending you so much love.
- Carla Carreon
You are in our hearts and prayers. Sending love to you! xo
- Robyn D. Stone
I am so incredibly sorry for your loss! Wishing you lots of strength in this difficult time.
- Danielle Green
Bjork and Lindsay, I'm so sorry for your loss of sweet baby Afton. Prayers and love to you.
- Monica Matheny
My heart is breaking for you. I'm so sorry for your loss.
- Ingrid Radio
My heart aches for you. I'm glad you were able to meet your sweet Afton and give him all of your love and kindness. Hugs to you...
- Lori Lange
Sending lots of love and support!
- Deb Attinella
Bjork and Lindsay - I have and will continue to pray for your sweet family. I know you will be with Afton again and I hope that knowledge gives you some peace during this incredibly painful time. Please know that my thoughts and prayers are with you and t
- Trish N Rosenquist
Sending love + prayers to your family.
- Elizabeth M Falcigno
Sweet Afton, Look out for your mom and dad and the rest of your family as they go through the pain of losing you in this world. Help them to feel your presence each and every day.
- Jennifer Buggica
Your love and passion for children is evident by how much you care for the Children's Shelter of Cebu, and for Afton. You are wonderful parents and we hope to honor Afton with our support of CSC!
- Kristin Porter
Honoring sweet Afton by helping children in need is speaks of your love and compassion for others. May God continue to hold you close and lift you up in His grace.
- Kirsten/ComfortablyDomestic
Lindsay & Bjork, you and your family have been in my thoughts during this difficult time you are going through. I'm sending you positivity and light as you begin the healing process.
- Holly Waterfall
Keeping you in our thoughts and prayers.
- Holly Nilsson
Sending lots of prayers and hugs!
- Gerry Speirs
Sending your sweet little family so much love and prayers. You are so very loved.
- Christina A Lane
Bjork and Lindsay: I was crushed to read about your loss. I hope you can find peace in the coming weeks and months. Afton: You moved mountains, kid.
- Nicholas Evans
Afton is so lucky to have such amazing parents. Wishing you peace.
- Lisa Longley
Sending all the good engery your way! I hope you know people are thinking about you.
- Gabriela Repeta
Keep you in my thoughts and prayers!
- marie louise Davidson
Sending prayers to your family.
- Amy Valentine
In honor and memory of your sweet Afton - his life, albeit brief, has already made a difference in the lives of so many. Thank you for sharing him with us.
- Kelly Cleborne
I'm sending love to you and your beautiful boy Afton.
- catherine sievewright
So incredibly saddened by the loss of your sweet Afton. What a beautiful way to remember him. Thinking of you often and praying for you both.
- Sara L Walls
Dear Lindsay and Bjork, I was heartsick to hear about sweet baby Afton and your loss. Please know you and your families are in my thoughts and prayers!
- Sharon G Rigsby
Your food has filled my life with joy. I wish nothing but sweet things for your baby boy.
- Caitlin B Frumerie
In memory of your little man
- Meredith L Rawling
You are incredible parents. I'm so sorry for your loss, but you will always be incredible parents. That is your identity now. Sending lots of love.
- Bousman
My heart is broken for you all but prayers always for your sweet family and your Angel Baby Afton.
- Jane Kleymeyer
My heart is deeply saddened by your loss. Holding you all in my prayers.
- Wendy
My heart is broken for you. My prayers are with you. My love goes out to you.
- Starr H. Peede
My deepest sympathies to you and your families.
- Kay Anderson